PROMOTIONS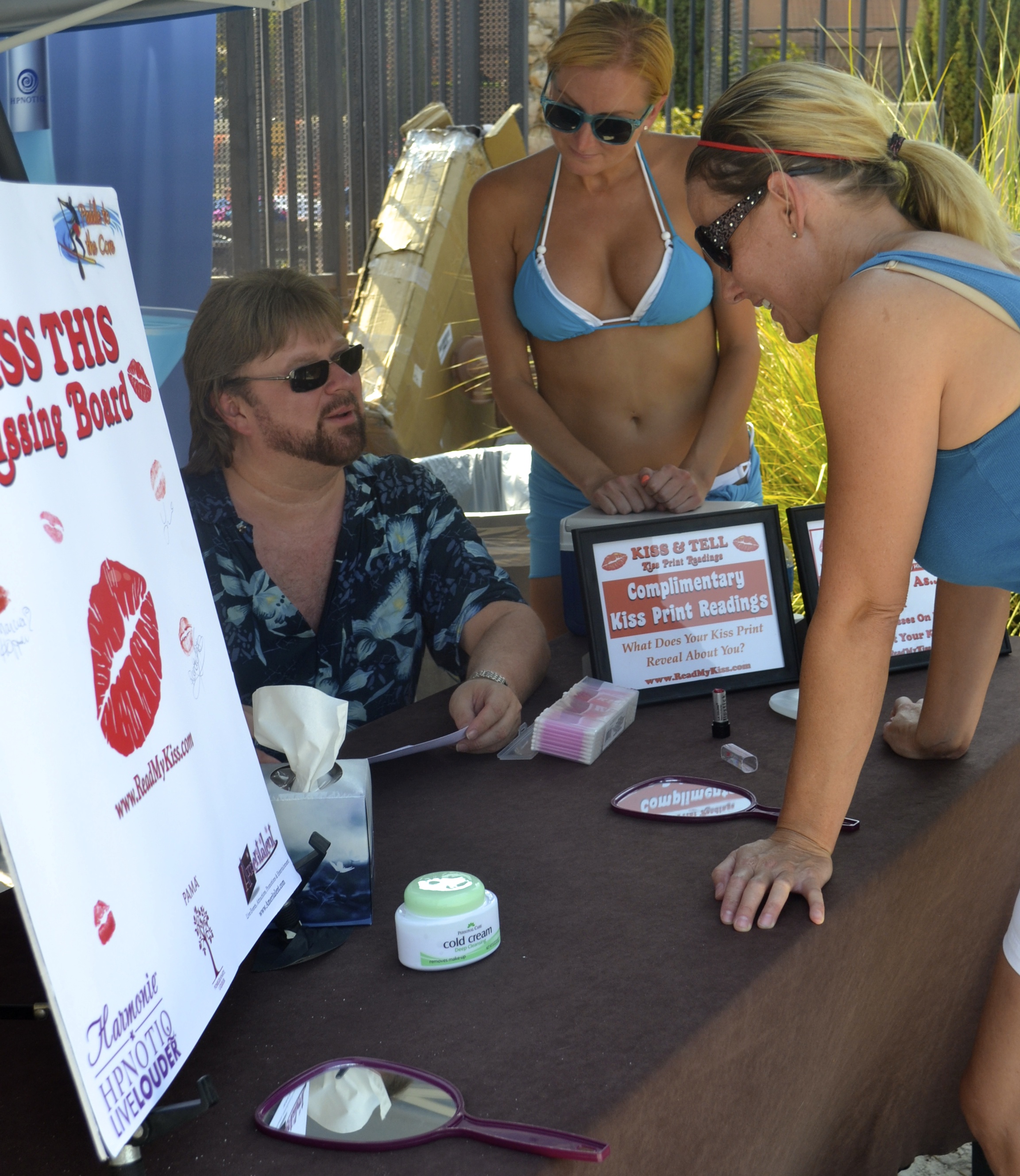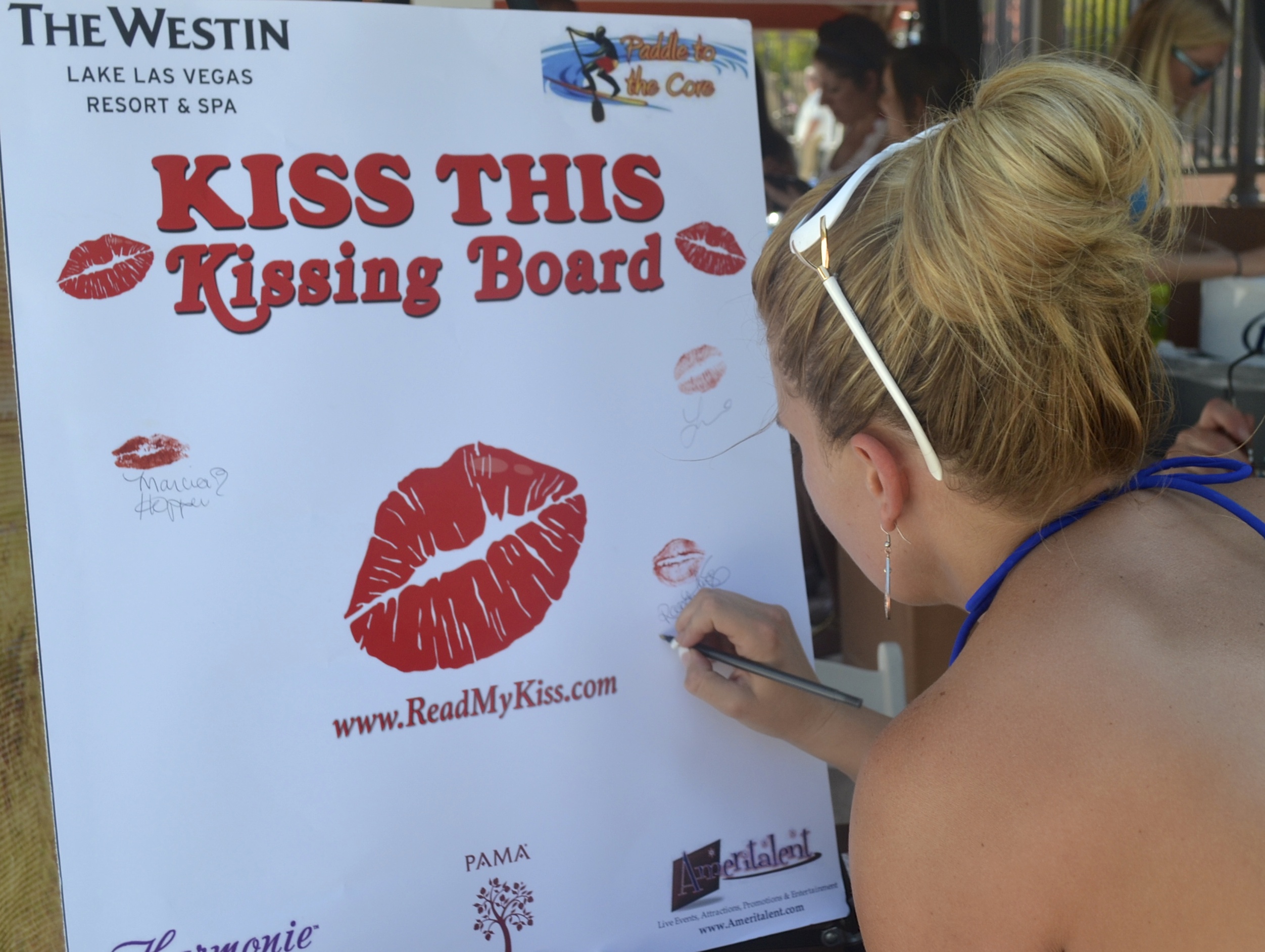 Marketing and Promotion is about taking a desired product or service and presenting it to the intended target audience. Simply put, Marketing & Promotion can determine the success of any brand, campaign or event. One of the most effective ways of doing this is through live, interactive events and attractions directly tied to your product or promotional message.
Read My Kiss - Kiss Print Readings are an excellent high-profile, interactive entertainment attraction that can easily, draw a crowd, attract attention, generate interest in and promote your product or message in a unique, fun and non-threatening manner, making it the ideal promotional resource. Custom branding is available through premium giveaways, display signage, Keepsake Kiss Print Cards, and customized Kiss Board. Let our fun entertainment attraction work for your next promotional event or campaign. Read My Kiss - Kiss Print Readings can custom create a promotional event or campaign desigend around your specific interests, needs and requirements to deliver impact, visibility and results.
PRODUCT LAUNCHES & CAMPAIGNS
Read My Kiss - Kiss Print Readings has the knowledge and experience to assist you in implementing Product Launches and Promotional Campaigns locally, regionally or nationwide. Through our wide variety of proven, time-tested methods and strategies, we can turn your concept into reality. Our creative team can also work directly with you to custom create market specific programs allowing for optimal results, saturation and effiency. Whether executing your predesigned Product Luanch and Campaigns, or being your resource to create and customize a campaign specifically for your release, our experts can offer a variety of promotional strategies to best help you acheive your goals.
TRADE SHOW PROMOTIONAL SERVICES
Read My Kiss - Kiss Print Readings offers the perfect trade show attraction! Our Kiss Print Readings are designed to play a key role in assisting you in creating your success team to implement your marketing and promotional strategies. Whether your looking for hourly presenattaions and personal readings at your exhibit booth, or entertainment for our hospitality suite or company event, Read My Kiss - Kiss Print Readings has the ideal entertainment format to help you achieve your goals to create trade show results and success.
GRAND OPENING EVENTS & PROMOTIONS

Let Read My Kiss - Kiss Print Readings be a featured attraction as part of your Grand Opening celebration event. Create attention, generate media coverage, and engage customers with our unique and personal entertaining readings. Read My Kiss - Kiss Print Readings have been featured at car dealerships, shopping malls, restaurants, nightclubs, radio station remotes, hotels and resorts, casinos, bridal shops, boutiques, and many other types of businesses as a fun showcase attraction and entertainment.

Read My Kiss - Kiss Print Readings
truly understands the importance of the laws of attraction. It's been said you only have six seconds to grab a potential customers attention and attract them
to your offerings.
Read My Kiss - Kiss Print Readings
attractions are
designed to offer fantastic visual appeal and customer interaction. This engaging promotional resource has proven time and time again to create awareness and attention, generate interest, attract crowds, deliver direct presentation of your message, generate and qualify leads, and offer you a variety of both instant and long-term promotional benefits and results.
LIQUOR PROMOTIONS

Read My Kiss - Kiss Print Readings
are an excellent promotional resource for Liquor Promotions from nightclub promotions to samplings, we have worked successfully with many of the top brands of spirits in the country. We work directly with your promotional team to combine to offer a fun, high-profile, interactive experince that features your brand. Engage customers with our entertining, interactive format while directly affiliating your brand or product lines with this very fun and inviting promotional format.
Read My Kiss - Kiss Print Readings is the excellent In-Store promotion. Whether you have us as part of an existing promotional theme or event, or you simpy have us as the main attration as our own promotion featuring your store, you will be amazed at the visibility and attention that is created with our appearance. We are an excellent resource for gathering contact infomation, lead generation and compling mailing lists. Read My Kiss - Kiss Print Readings is also the ideal presentational format for conducting contests, drawings and givaways to create a fun In-Store promotional event that will create memories and customers for years to come.
COSMETIC COUNTER PROMOTIONS

Read My Kiss - Kiss Print Readings are a main attraction at Cosmetic Departments and speciality stores as a promotion to feature and sample your specific brands and product lines. You will be amazed at the attention and interest Read My Kiss - Kiss Print Readings will generate, while attracting customers in a approachable, non-threatening, fun promotional environment.